With Festivals for Compassion festivals around Europe express their solidarity in these times of Corona by presenting a new solo composition by the Greek-Dutch composer Calliope Tsoupaki. Each festival selects their own artist and instrument. The piece will be premiered on the Dutch NPO Radio 4 on 20 June, with the Flemish Klara taking over the next day.  After this, like a relay race of compassion, the work will begin its journey through Europe travelling from festival to festival, and will be shared online.

Calliope Tsoupaki - composer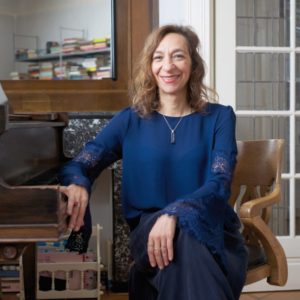 As the official 'Composer of the Netherlands', Calliope Tsoupaki is the face of Dutch music today. She feels a responsibilty to bring the craft of composing to a wide audience, always with an eye to current events. Tsoupaki immigrated to the Netherlands in 1988 from Greece to study composition with Louis Andriessen in The Hague. She developed into one of the Netherlands' most high-profile composers, with her own unmistakable style incorporating her Greek roots.
Festivals for Compassion took its inspiration from the Flag of Compassion, a conceptual piece by the Dutch artist Rini Hurkmans. The work consists of 'the Flag' and a manifesto, held at the Unda Foundation. The Flag is a means to express the universal human feeling of compassion, independent of political, religious, or cultural ends. It is a flag for everybody, and can be used by anyone. The Flag of Compassion (actual or virtual) can accompany Tsoupaki's composition from festival to festival.